These Are the 10 Most Power-Dense Car Engines
Modern engine technologies are proving that big power can come in small packages.
Mercedes-Benz
Article QuickTakes:
The old saying "there's no replacement for displacement" has been put on notice. The belief that large-displacement engines would always have the ability to produce more power than smaller engines was traditionally true, but that was before modern technology had any say.
Inside an internal-combustion engine, air and fuel are mixed and then ignited to create combustion. Large engines provide more room in the combustion chamber for greater volumes of air and fuel, which yield more power, but also yield more fuel thirst, which stands in contrast with today's world of smaller engines and their desirable fuel efficiency.
Modern technology allows smaller engines to perform like larger ones without as much of an efficiency downfall thanks to "forced induction" by way of turbochargers and superchargers.
Mercedes-Benz
As a result, we seek "power density," or the amount of horsepower an engine can produce relative to its displacement or size. If you have a 2.0-liter engine that makes 200 horsepower, then you've got a power density of 100 hp/liter.
Power density is important because while modern engines are subject to stringent fuel economy and emissions regulations, our thirst for performance and power hasn't waned. Without highly power-dense engines, we'd be back in the infamous Malaise Era; the time of anemic power plants like those of the late '70s and early '80s.
While there have been many power-dense engines produced throughout the world by both large and specialty manufacturers, this list is limited to 2022 and 2023 vehicles that are available for sale as of July, 2022. They must meet U.S. emission and safety standards and make their power numbers using gasoline that's available at the pump. Without further ado, enjoy the most power-dense engines you can buy today.
BMW
10) BMW M4 CSL – 181 HP/Liter
BMW Motorsport (later renamed BMW M) developed its performance cachet through superb chassis dynamics and high-revving, naturally aspirated engines. But after roughly 40 years, it had to succumb to the new age of forced induction. In celebration of its 50th birthday, BMW M created the M4 CSL, powered by the same twin-turbocharged, 3.0L inline-six found in the M4 and M4 Competition, but with the boost cranked up to a pressure-cooking 30.5 psi for a tire-melting 543 horsepower.
Ferrari
9) Ferrari F8 Tributo/Spider – 182.1 HP/Liter
It's no surprise to see the Prancing Horse on this list; after all, Ferrari Formula 1 race cars have been cranking out monstrous horsepower from small-displacement engines for decades. The aluminum V8 in the F8 Tributo and F8 Spider is no exception, utilizing a pair of turbochargers to produce 710 quickly prancing horses from just 3.9 liters.
Ford
8) Ford GT – 188.6 HP/Liter
Historically known for V8 power, Ford threw a curveball with its surprise debut of the second-generation Ford GT. A twin-turbocharged V6 took the place of the 5.4L, supercharged V8 that graced the first generation of this road-going racecar. Proving modern technology can do more with less, the new GT's EcoBoost engine maxes out at 660 horsepower from only 3.5 liters of displacement. For the purists, the current Ford GT's increase of 110 horsepower from an engine that's less two cylinders and 1.9 liters of displacement still isn't an easy pill to swallow.
McLaren
7) McLaren 765LT/Spider – 188.8 HP/Liter
Much like Ferrari, McLaren is also deeply rooted in Formula 1 racing. But unlike Ferrari, McLaren doesn't actually produce its own engines. Nonetheless, McLaren engineers some of the most capable and exhilarating supercars in the world thanks in part to the powerplants supplied by Ricardo. The 765LT and 765LT Spider wring out 755 horsepower from a twin-turbocharged, 4.0L V8 engine.
Mercedes-Benz
6) Mercedes-AMG CLA45 – 191 HP/Liter
The Mercedes-AMG CLA45 is clearly not a supercar. It has by far the smallest engine and the lowest amount of horsepower among this elite group. But that's the beauty of power density. This compact AMG packs a turbocharged, 2.0L four-cylinder engine that squeezes out an impressive 382-hp punch. Adding to its list of accolades, the CLA45 is EPA-rated to achieve 28 mpg on the highway, and it's even attainable to the masses with a starting price just below $57,000.
McLaren
[Tie] 4) McLaren Artura – 192.3 HP/Liter
The McLaren Artura joins a new era of hybrid supercars where the internal combustion engine is augmented by the use of one or more electric motors. While the Artura gets a little help from a 94-hp electric motor, we aren't here to talk about that. What's of more importance is that its twin-turbocharged V6 engine screams to 8,500 rpm and delivers 577 horsepower on its own from just 3.0 liters of displacement. Its two turbos are nestled in the valley of the engine's 120-degree V, which McLaren says helps with packaging and lowering the center of gravity.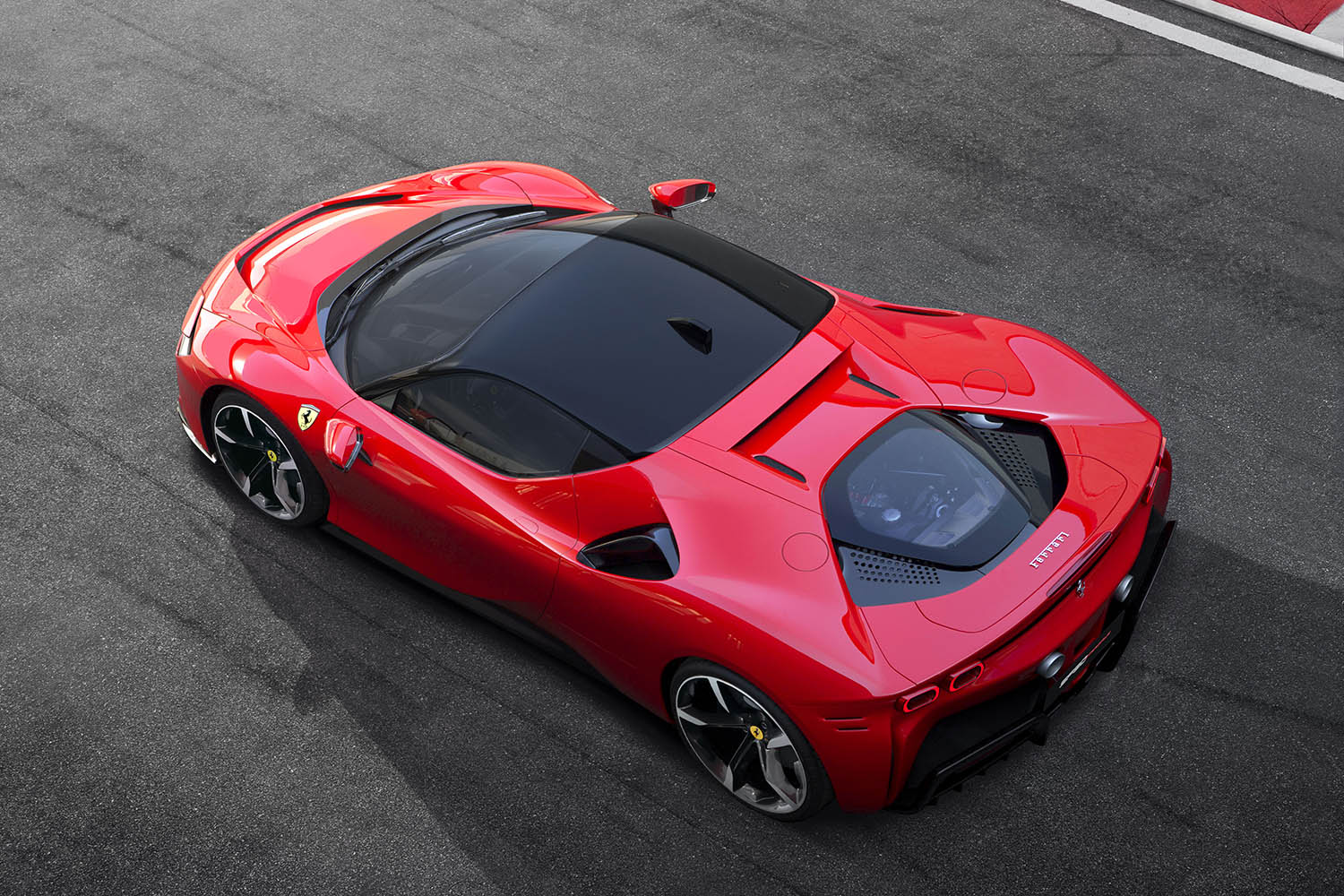 Ferrari
[Tie] 4) Ferrari SF90 Stradale/Spider – 192.3 HP/Liter
The Ferrari SF90 is the iconic brand's first plug-in hybrid. Utilizing three electric motors that combine for 217 of its 986 total horsepower, the real star of this horse show is a manic, twin-turbocharged V8 engine that unleashes a stampede of 769 horses from 4.0 liters.
Bugatti
3) Bugatti Chiron Super Sport – 197.3 HP/Liter
OK, so not all of the engines on this list can be considered "small," but when the output is an eye-popping 1,578 horsepower, the displacement becomes relative. When it comes to specs, there's nothing particularly small about the Bugatti Chiron Super Sport: Eight liters; 16 cylinders (W16); not one, not two, but four turbochargers; all-wheel drive, and a manufacturer's claimed top speed of 273 mph. It's nothing short of an engineering marvel, perhaps giving a little justification to its $3,825,000 base price.
Maserati
2) Maserati MC20/Cielo – 207 HP/Liter
It's been a while since Maserati last produced an all-out sports car or supercar of its own, but someone apparently woke a sleeping giant. The MC20's "Nettuno" twin-turbo, 3.0L V6 engine directly applies Formula 1 technology to produce one of the most power-dense engines today. Its secret is a "prechamber" ignition system that ignites a relatively small amount of fuel and air in a tiny space at the top of each cylinder. The flame then escapes into the cylinder where primary combustion ensues to produce a staggering 621 hp.
Ferrari
1) Ferrari 296 GTB – 218 HP/Liter
It's hard to fathom anything less than at least eight cylinders in a Ferrari, and that's because it has been some 48 years since a road car from the Italian institution had anything less. But this isn't a sob story. This is one of a twin-turbocharged, 3.0L V6 that sings to a glorious tune of 8,500 rpm while unshackling 654 hp. There are small details that include 164 horsepower in electrical assist and a V6 layout that's similar to the McLaren Artura. But let the math show that the 296 GTB reigns with the highest hp-per-liter figure of any production car currently on sale.
Ferrari
This site is for educational purposes only. The third parties listed are not affiliated with Capital One and are solely responsible for their opinions, products and services. Capital One does not provide, endorse or guarantee any third-party product, service, information or recommendation listed above. The information presented in this article is believed to be accurate at the time of publication, but is subject to change. The images shown are for illustration purposes only and may not be an exact representation of the product. The material provided on this site is not intended to provide legal, investment, or financial advice or to indicate the availability or suitability of any Capital One product or service to your unique circumstances. For specific advice about your unique circumstances, you may wish to consult a qualified professional.