Types of Fees

Understanding Fees
There may be some fees associated with your bank account. Like other service providers, banks may charge a fee for providing certain services or in the event that you do not follow the account rules. The good news is that fees can often be easily avoided by keeping your account in good standing and practicing good habits.
It pays (you) to know the fees your bank charges. Ask your bank for a printed copy of its fee schedule. This way you can see exactly what the each service costs, and what you will be charged for mistakes like overdrafts.
Here are some examples of common services for which banks charge fees:
Account Maintenance Fee—Many checking accounts come with a monthly service fee. In some cases, the fee is waived if you keep a certain minimum balance in your account, or if you meet other requirements such as participating in direct deposit.
ATM Fee—Most banks charge a fee for using ATMs outside of their network. You could also be subject to a surcharge by bank that owns the ATM. If you use ATM's frequently, look for a bank with an extensive ATM network, in convenient locations.
ATM/Debit Card Replacement Fee—Some banks charge for replacing lost ATM and debit cards. It pays to keep your card secure.
Debit Card Fees—Some banks charge a fee for purchases made with your debit card. Banks are required to disclose any fees in the information you receive when you get a debit card, so be sure to read the disclosure carefully.
Early-Withdrawal Fee—If you have a certificate of deposit (CD) and you withdraw money or close the account before it matures, you could be charged a fee. Generally this fee amounts to one month or more of interest.
Insufficient or Non-Sufficient Funds (NSF)—If you bounce a check, you will most likely have to pay a fee. NSF fees typically range from $25–$35 per returned item.
Overdraft Fee—If you've opted in to "overdraft protection" and you bounce a check, the bank will pay the check or debit, but may charge you a fee. Be sure to ask for and read your bank's overdraft policy carefully.
Teller Fee—Some accounts, such as "Express Checking" type accounts, require you to do most of your transactions online, at the ATM or by phone. These accounts usually limit the number of times you can visit a teller each month and charge a fee for additional visits.
Tips for keeping bank fees down
Find out if you qualify for a checking account with low or no monthly maintenance fees. If there is a minimum balance requirement, ask if you can combine the balances in your checking and savings accounts to meet it.
Use your own bank's ATM to save on ATM fees. If you can't avoid a fee, consider taking out more money at one time, rather than making numerous smaller withdrawals.
Use direct deposit for your paycheck or government benefits check. Direct deposit is faster, safer, more convenient, and may make you eligible for a free account.

---
Additional Reading
Are Americans interested in tracking their budget online?1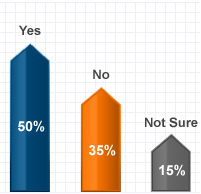 A budget helps you meet financial goals
Complete this worksheet and see how you can save for what you really want.
DOWNLOAD

Download a Budget Worksheet (1.1 MB PDF)

This site is for education purposes. The material provided on this site is not intended to provide legal, investment, or financial advice or to indicate the availability or suitability of any Capital One product or service to your unique circumstances. For specific advice about your unique circumstances, you may wish to consult a qualified professional.
1
Source: North American Technographics Financial Services Online Survey, Q2 2008, Forrester Research, Inc., Survey Base: 3,581 US Online Respondents currently using online money management tools and those not currently using them but are interested in using them.