2024 Volkswagen Atlas Cross Sport Review and Test Drive
It's better than ever, but a few flaws stand out in the updated midsize SUV.
Christian Wardlaw
QuickTakes:
I'm shuddering as I drive at low speeds in front of my daughter's high school, and not because I overheard some dope, fire, or lit new slang as she exited the 2024 Volkswagen Atlas Cross Sport into the chilly 60-degree morning air. The Cross Sport and I are shimmying while crossing the severe speed bumps spaced out at 50-foot intervals because it sounds and feels like the brittle suspension is about to snap a shock absorber and leave it in the middle of the drop-off lane.
Ever since Volkswagen introduced the Atlas in 2018, I've complained about how the front suspension reacts to anything but perfectly smooth pavement. When crossing railroad tracks, it sounds like the front wheels might divorce themselves from the SUV. Constant chatter and vibration accompany travel on pockmarked pavement. And when you cross speed bumps or sharp and short drainage channels, the reverberations coming up through the structure and steering wheel make you wonder if VW builds the Atlas out of dried pasta.
When I learned Volkswagen was giving the 2024 Atlas and Atlas Cross Sport a comprehensive update, I hoped for more suspension compliance and noise isolation at low speeds. Alas, that did not come to pass.
Fortunately, most of the updates for 2024 make the three-row Atlas and its two-row Atlas Cross Sport sibling more appealing than ever. Highlights include fresh styling, new wheel designs, an upgraded interior, new technology, and more standard equipment. In addition, the 2024 Atlas Cross Sport is now available with rugged-looking Basecamp accessories to give it the currently popular appearance that it's ready to go off-roading at a moment's notice.
Christian Wardlaw
2024 Volkswagen Atlas Cross Sport Price Can Climb Past $50,000
An Atlas Cross Sport is the same thing as a regular-flavor Atlas — without a third-row seat and with revised styling, making it shorter in height and length. It's the sporty model created to compete with rivals such as the Chevrolet Blazer, Ford Edge, Honda Passport, Jeep Grand Cherokee, Nissan Murano, and Subaru Outback.
The 2024 Volkswagen Atlas Cross Sport comes in SE, SE with Technology, SEL, SEL R-Line, and SEL Premium R-Line trim levels. Base prices range from the high $30,000s to the low $50,000s, including the destination charge to ship the SUV from the Chattanooga, Tennessee, factory that builds it to your local dealership.
For this Atlas Cross Sport review, I test-drove the SEL Premium R-Line in Southern California. It had no options, so the manufacturer's suggested retail price was $52,795, including the $1,350 destination charge. Volkswagen provided the vehicle for this Atlas Cross Sport review.
Christian Wardlaw
2024 VW Atlas Cross Sport Gets a Fresh Look and a New Interior
When Volkswagen created the Atlas and Atlas Cross Sport, it must have issued its design staff T-shirts emblazoned with a "Go Big or Go Home" slogan. These SUVs have a significant visual presence thanks to square-jawed front styling, bulging fenders, and huge interiors.
The Atlas Cross Sport is genuinely stylish with its custom chopped-roof look and a rear window reminiscent of an Audi Q8. Thanks to the SEL Premium R-Line's huge 21-inch wheels and front and rear illuminated VW logos, my Kingfisher Blue test vehicle looked worthy of a price north of 50 grand.
Previously, you would open the Atlas Cross Sport's door to disappointment with the plastic-fantastic interior. For 2024, Volkswagen has stepped up its game with a contemporary new dashboard and center console design, upgraded materials, and high-tech displays. Classy indirect ambient lighting, including the Cross Sport logo on the dashboard in front of the passenger, gives the VW a distinctly upscale vibe.
Christian Wardlaw
Redesigned Controls and Next-Generation Tech Cause Irritation
Unfortunately, the ergonomics suffer. The stereo and climate control knobs from the previous Atlas Cross Sport are replaced by distracting touch-sensing controls. Worse, Volkswagen fails to illuminate the dual-zone temperature and volume slider controls beneath the new infotainment screen, so you can't see them at night.
Apparently, it's more important to dazzle occupants with upscale ambient and logo lighting than to make it easy to see how to adjust the cabin temperature.
The previous Atlas Cross Sport made it easy to find and use the front and rear window defoggers. In the 2024 model, you must push the touch-sensing Climate menu button under the air vents and then select the function you want to use from the tiles shown on the display. The trouble is, only one of those tiles relates to defrost and defog functions, and on a morning when condensation had collected on the back window, it wasn't clear to me the system was heating the back glass.
Losing buttons and knobs isn't a big deal if a vehicle has a comprehensive digital assistant recognizing naturally spoken commands. For example, the least distracting way to activate a rear defroster would be to say, "Hey, Volkswagen, turn on the rear defroster." But in the test vehicle, the voice recognition technology proved just as obtuse as what I've experienced in past VWs, to the point of near uselessness.
On a positive note, the automaker does not install a steering wheel loaded with gloss-black touch-sensing controls, sparing me even more irritation and frustration. Instead, the Atlas Cross Sport's steering wheel has proper buttons in a matte-black finish.
Also, as long as you can successfully set up your favorite radio or SiriusXM stations, the tuning buttons are a suitable replacement for a traditional tuning knob.
Christian Wardlaw
Atlas Cross Sport Interior Provides Full-Size Comfort in a Midsize SUV
Comfort is king in the Atlas Cross Sport. The Atlas feels roomy from the driver's seat, almost like a full-size SUV. The view forward is expansive, and the squared-off hood gives you a good sense of where the front corners are. All but the base SE trim get a panoramic sunroof.
Every version of this SUV has a standard dual-zone automatic climate control system, heated and ventilated front seats, a power-adjustable driver's seat, and a height-adjustable front passenger's seat. Volkswagen's V-Tex artificial leather is standard, and higher trim levels include the real thing in standard and premium grades.
My SEL Premium R-Line test vehicle had the top-quality leather. Soft, perforated, piped, and diamond stitched, it looked and felt terrific. The vehicle also had a heated steering wheel, but the rim's shape, which includes a sharp radius on its leading edge, makes it uncomfortable to grip after hours on the road.
Rear passengers will be happy with their accommodations. There is plenty of room, the seat cushions are comfortable and supportive, and VW supplies rear air-conditioning vents. The test vehicle had heated outboard cushions and side window shades that covered most of the glass.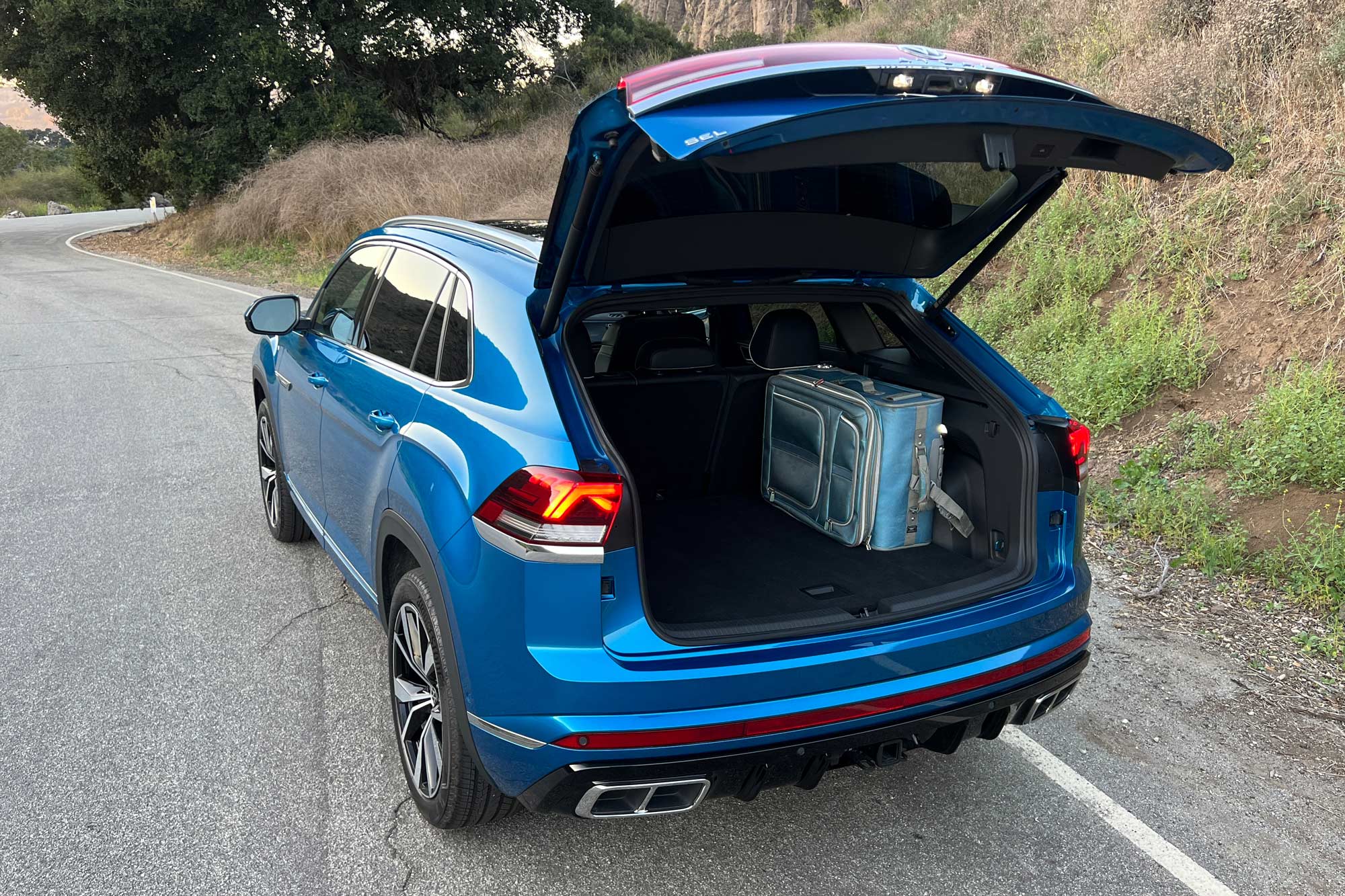 Christian Wardlaw
Plenty of Cargo Space in the Atlas Cross Sport
Generous storage and cargo space is also a hallmark of the Atlas Cross Sport. The new interior looks clean, contemporary, and minimalistic. Volkswagen includes plenty of storage space in and underneath the center console, beneath the center armrest, embedded into the door panels, and within the glove compartment. Likewise, the rear passengers enjoy more stash space than you might expect.
Although the Atlas Cross Sport has a more rakish roofline than its larger three-row Atlas sibling, it still offers plenty of cargo space behind the back seat. Volkswagen reports the sportier two-row Atlas has 40.3 cubic-feet of cargo in the trunk, a substantial amount of volume. In addition, VW locates deep wells on either side of the cargo floor where you can secure jugs of milk or bottles of wine. Fold the back seats down, and the Cross Sport can swallow 77.6 cu-ft of cargo.
Christian Wardlaw
Frustration Comes Standard in the Atlas Cross Sport Discover Pro
One of the most significant changes to the 2024 Atlas Cross Sport is the new infotainment system. The Atlas Cross Sport SEL Premium R-Line test vehicle's Discover Pro setup came with the following features:
12.0-inch touchscreen display
Voice recognition
Navigation system
Wireless Apple CarPlay and Android Auto
SiriusXM 360L premium satellite radio
Car-Net connected services with variable complimentary trial subscription periods
Car-Net is available in three plans:
Safe & Secure is complimentary for five years and includes SOS emergency assistance, automatic collision notification, and a stolen vehicle locator.
Remote Access includes remote engine start (if equipped), remote door lock and unlock, a last-parked location finder, and Family Guardian curfew, boundary, speed, and valet alerts. It's also free for five years.
The Hotspot plan provides access to a 4G LTE Wi-Fi hotspot, enabling Amazon Alexa compatibility. With an active hot spot subscription, you can upgrade to Plus Nav for over-the-air navigation system updates, conversational voice recognition called Plus Speech, and access to online radio streaming.
The new infotainment system looks terrific and features a sizable and responsive screen with appealing graphics and familiar swipe and scroll functionality. In addition, the test vehicle had an excellent 12-speaker Harman Kardon sound system.
Unfortunately, from the lack of nighttime illumination for the touch-sensing controls to a nearly useless standard voice recognition system, the infotainment system proved a source of regular frustration.
I recommend spending quality time with the system when you're not driving the SUV. Set everything up how you want it, including selecting and saving your favorite radio stations, and limit your interaction with the display to the greatest extent possible.
Better yet, pair your smartphone, use the wireless Apple CarPlay or Android Auto platforms, and adjust the stereo volume using the steering wheel controls.
As for the voice recognition system, I can only assume the test vehicle didn't have an active hot spot plan with the Plus Speech subscription add-on. I've used that in a different Volkswagen model with similar infotainment technology, and it worked well. Without Plus Speech, you'll likely encounter plenty of frustration when using voice commands to find points of interest, get directions to specific addresses, and most other things.
Christian Wardlaw
Available Displays and Cameras Come in Handy
To the left of the new infotainment screen, you'll find a standard Digital Cockpit Pro instrumentation panel measuring 10.2 inches across. Owners can configure the display's theme and contents, and when the Atlas Cross Sport has a navigation system, you can choose a full-screen display of the map in this location.
In addition, my test vehicle had a helpful head-up display, a surround-view camera system, and a Park Assist system offering semi-autonomous parking assistance. Park Assist can help you find an appropriately sized parallel or perpendicular parking space and steer the SUV into it while you operate the accelerator pedal, brakes, and transmission.
Christian Wardlaw
Atlas Cross Sport IQ.Drive Is Great on Straight Roads
In addition to technology that helps you steer into a parking space, the 2024 Atlas Cross Sport comes with Volkswagen IQ.Drive. This collection of advanced driving assistance systems (ADAS) includes:
Adaptive cruise control
Active blind-spot monitoring with countersteering
Rear cross-traffic alert
Forward-collision warning, automatic emergency braking, and pedestrian and cyclist detection
Lane Assist with departure warning and lane-keeping assist
Lane-centering assist called Travel Assist that works with adaptive cruise control to create a hands-on Level 2 semi-autonomous driving system
Automatic emergency braking that engages if the driver becomes unresponsive
While evaluating the ADAS, Travel Assist proved dissatisfying on Pacific Coast Highway north of Malibu, where gentle bends and curves hug the beach and mountains. The semi-autonomous steering inputs were too aggressive, and I frequently needed to override its recommended path. In addition, the lane-departure warning system issued several false alerts as vibrations through the steering wheel.
Travel Assist was a better travel companion on the freeway, except when a vehicle tucked into the gap ahead of the SUV. The tech doesn't appear to recognize the new vehicle ahead until more than half of it has entered the lane, so you must be ready to take control.
Driving in the suburbs of Los Angeles with only Lane Assist active, the technology was anything but transparent in operation, leading me to prefer driving the Atlas Cross Sport without it.
Christian Wardlaw
Safety Ratings for the Atlas Cross Sport
As of publication, the Insurance Institute for Highway Safety (IIHS) has not rated the 2024 Atlas Cross Sport for safety. Check the IIHS website for updates.
The National Highway Traffic Safety Administration gives the SUV a five-star overall safety rating. It performs best in side-impact tests but earns four-star ratings for frontal-impact protection and resistance to rolling over in a collision.
Christian Wardlaw
More Standard Power and Improved Fuel Economy
Another significant change for 2024 is the new turbocharged 2.0-liter four-cylinder engine. It is standard and is the only engine available now that Volkswagen has discontinued the previously available 3.6-liter V6. The turbo four makes 269 horsepower and 273 pound-feet of torque. However, you must pump the Cross Sport full of premium fuel to achieve these figures.
An eight-speed automatic transmission powers the front wheels with SE and SE with Technology trim. Upgrade to the SEL, SEL R-Line, or SEL Premium R-Line, and the Atlas Cross Sport has a standard 4Motion all-wheel-drive system. The 4Motion system can send up to half of the engine's power to the SUV's rear wheels and is an option with SE and SE with Technology trim.
Volkswagen says the Atlas Cross Sport SE can tow 2,000 pounds while other versions can tackle up to 5,000 pounds of trailer. In addition, drivers can choose between Eco, Comfort, Sport, Custom, Snow, and Offroad driving modes. The Offroad mode is available only on SUVs with 4Motion, and it activates the Atlas Cross Sport's hill-descent control system.
When equipped with 4Motion, the Cross Sport earns EPA fuel economy ratings of 19/26/22 mpg city/highway/combined. My test vehicle averaged 22 mpg during the evaluation, suggesting these ratings are accurate.
Christian Wardlaw
Lack of Refinement Makes the Atlas Feel Old
On paper, the new turbocharged four-cylinder is an improvement. It is more powerful than last year's standard turbo four and is more fuel efficient than the previously available V6 engine. Still, in an SUV of this size, it is merely adequate.
When driving in Comfort mode, you'll notice turbo lag and a delay in response. Choosing Sport mode resolves this and adds a raspy note but presumably dents fuel economy. No matter which driving mode you select, the Atlas is begging for more power, and the 315-hp engine in the Golf R would work well in this SUV.
VW uses a detuned version of the Golf R's powerplant in the Arteon sportback sedan and should offer it as an option in the Atlas.
Still, that wouldn't resolve the Atlas' brittle ride and front suspension noise, vibration, and harshness. With the SEL Premium R-Line's heavy 21-inch wheels and 265/45 Bridgestone Alenza tires, this SUV shimmies and shakes its way across suburbia. The SE trim level's standard 18-inch wheels or the Basecamp accessory 17-inch wheels with all-terrain tires might add some cushioning against road shock.
And that brings me back to the Arteon. Volkswagen's sweet sportback has a standard adaptive damping suspension that the Atlas Cross Sport desperately needs. And not just because of noise, vibration, and harshness. The Cross Sport suffers excess body motion when driving on undulating roads with uneven whoops and dips, translating into head toss for the driver and passengers. An adaptive damping suspension could resolve much of that.
Those Bridgestones offer good grip but also howl when you enthusiastically drive the Cross Sport. On the highway, too much road noise makes its way into the cabin, and while I like the steering feel, responsiveness, and effort level, the wheel rim has an uncomfortable shape.
Christian Wardlaw
Flaws Stand Out in an Otherwise Impressive SUV
The 2024 Volkswagen Atlas Cross Sport deserves to be better than it is. It offers plenty of style, comfort, and utility, and the standard Carefree Coverage plan delivers extra value. But the underwhelming engine, poor ride and noise isolation, and aggravating technology stand as glaring flaws marring an otherwise excellent package.
This site is for educational purposes only. The third parties listed are not affiliated with Capital One and are solely responsible for their opinions, products and services. Capital One does not provide, endorse or guarantee any third-party product, service, information or recommendation listed above. The information presented in this article is believed to be accurate at the time of publication, but is subject to change. The images shown are for illustration purposes only and may not be an exact representation of the product. The material provided on this site is not intended to provide legal, investment, or financial advice or to indicate the availability or suitability of any Capital One product or service to your unique circumstances. For specific advice about your unique circumstances, you may wish to consult a qualified professional.