2024 Ram 1500 Rebel Review and Test Drive
Loud, lifted, and gifted at liberating cash from your wallet.
Ram
QuickTakes:
Every time gas prices spike, my Los Angeles suburb quiets down. The roaring engines, the screeching rubber, and the machine-gun exhaust systems go silent. So I don't mind when the local station prices start with a six. It means I'll sleep through the night.
During the fall 2023 national gas price increase, I contributed to my neighborhood's noise pollution thanks to a 2024 Ram 1500 Rebel G/T test truck. Equipped with a Hemi 5.7-liter V8 engine, a Mopar cold-air intake system, and a louder exhaust system, Big Red sounded mean. For a week, it was the most obnoxious vehicle on my block.
Ram
Ram refers to the Rebel as a menace. Sitting on my elevated driveway, its oversized dual outlets frenched into the back bumper and aimed at my retired neighbors across the street, the Ram Rebel G/T lived up to that description, issuing plenty of unwanted racket shortly after sunrise each morning when I made my daily shuttle run to the high school.
I looked for a button or menu in search of a quieter exhaust mode but never found one, so I'll need to be extra generous with the folks across the street this coming holiday season.
When you drive a thirsty full-size truck filled with a complimentary tank of gas, you don't fully appreciate the value of the situation. But after several days of driving the Ram Rebel G/T, the gas gauge read a quarter full.
I pulled into the local cheap gas station with a self-imposed $60 limit. I figured that would buy about 10 gallons and, at the 14.4 mpg I'd been getting, the expenditure would give me another 145 miles of range, plenty for a few more mornings serenading my neighbors with the rude Hemi V8.
As the 87-octane unleaded flowed into the test truck's optional 33-gallon fuel tank, the undeveloped math wizard part of my brain flickered to life. Does that translate to about 40 cents per mile before factoring in oil changes, tires, brakes, and other maintenance costs? Ouch. But hey, nobody said being able to tow up to 11,270 pounds, haul as much as 1,860 pounds of payload, and carry stuff in a 5-foot-7-inch cargo bed while adding as much rumble and roar as possible to your local surroundings would be affordable.
Ram
2024 Ram 1500 Prices and Configurations
Those ownership costs come in addition to the Ram 1500's price. You must spend more than $40,000 to get a base Ram 1500 Tradesman Quad Cab with a V6 engine and two-wheel drive. At the opposite end of the lineup, the 2024 Ram TRX Final Edition crew cab costs three times that, or about $120,000. Those prices include the destination charge to ship the truck from the Sterling Heights, Michigan, assembly plant to your local dealership.
For this Ram 1500 review, I test-drove the Rebel, which comes only in a crew cab, short bed configuration. Outfitted for off-roading, the Rebel carries a base price starting at more than $60,000, and this year it includes a standard four-wheel-drive system.
In addition, the test truck had a Hemi 5.7-liter V8 engine, a four-corner air suspension, the G/T Package, six additional option packages, and a smattering of other upgrades. It wore a manufacturer's suggested retail price of $81,945, including the $1,995 destination charge. Ram provided the vehicle for this Rebel G/T review.
Ram
The Ram 1500 Rebel Looks the Part of an Agitator
The Ram 1500 is a good-looking truck, and while I'm not a fan of the Rebel's mustachioed Mr. Monopoly grille design, that's the only flaw. My test vehicle had a Flame Red paint job that was impossible to ignore and stood in sharp contrast to the Night package's black wheels and exterior details.
Without step rails, climbing up and into the Rebel's cab requires some core strength. Once you're situated behind the steering wheel, you'll find quality materials and a logical control layout. Unfortunately, the gloss-black plastic surrounding the infotainment screen can impede the use of the climate controls due to reflections and glare, and it rapidly collects dust and fingerprints.
In addition, Ram's decision to use portrait rather than landscape orientation for the touchscreen forces a driver's eyes farther away from the road ahead when referencing the main menu shortcut buttons at the bottom of the display. Cycling through the digital instrumentation menus while driving is also distracting, so set everything up before you shift the truck out of park.
Ram
Ram 1500 Crew Cab Has Plenty of Passenger Room and Then Some
It's easy to get comfortable in the Ram 1500 Rebel. My test truck had leather upholstery, power-adjustable front seats with heating and ventilation, power-adjustable pedals, and a tilt-and-telescopic steering wheel with a thick rim pleasing to hold during longer drives.
Heated and ventilated front seats and a heated steering wheel are available upgrades, and the test truck had them. Unfortunately, they're not readily accessible, requiring you to select the Comfort menu and turn them on via the touchscreen. You can program them for automatic operation, so that helps reduce irritation and distraction while driving.
Passengers will find more than enough room in the Ram 1500 crew cab's vast back seat. The test truck had heated outboard cushions, and the seat offered plenty of leg support with a properly angled backrest. On the back of the front-seat center console are cupholders, USB ports, a 115-volt AC power outlet, and air-conditioning vents. It's worth noting the Ram's climate system filters 95 percent of particulates to help keep the cabin's air clean.
Ram
Cargo Bed Utility Is Optional With the Ram Rebel
Just as there is plenty of space for people aboard the Ram 1500 Rebel, there's no shortage of places to put things. You'll find impressive stash space in the Ram's cab, from the tray atop the dashboard and the hidden cubby in front of the passenger to the center console's storage bins and slots. And don't forget the in-floor storage bins in the back seat or the 68.5 cubic-feet of in-cab storage space with the rear seat cushion flipped up.
When it has the Bed Utility Group package, the Ram includes a deployable step to help you access the bed. In addition, that package includes bed lighting and tie-down hooks. The test truck also had a protective spray-in bedliner and a tri-fold tonneau cover that can help secure contents but also adds some hassle.
Unfortunately, my Ram Rebel didn't have the company's innovative locking RamBox integrated bed storage bins or its multifunction 60/40-split tailgate that drops down or swings open to the sides for easier loading and unloading. Together, they add more than $2,000 to the price of a Ram 1500, but if you use the truck as intended, the cost might be worth it.
Ram
2024 Ram 1500 Uconnect 5: No Significant Flaws
Uconnect 5 is the name of Ram's latest infotainment system. It's an option in lower trims and is standard in higher trims, starting with the Ram 1500 Laramie. Two screen sizes are available. The 8.4-inch display mounted in landscape orientation is standard, and a portrait-mounted 12.0-inch display is optional. My test truck had the larger screen.
Highlights include:
Bluetooth connectivity for two devices simultaneously
Wireless Apple CarPlay and Android Auto
SiriusXM satellite radio
Navigation system
Connected services
Access to a Wi-Fi hotspot
Aside from the usability concerns related to the low-mounted main menu shortcuts and the gloss-black plastic surrounding the display, the 12.0-inch version of Uconnect 5 worked well. I had no trouble pairing an iPhone, running Apple CarPlay, or streaming music through the test truck's impressive 19-speaker Harman Kardon premium sound system. However, the voice-recognition system stumbled a few times, and when you request directions to a hospital, the system doesn't parse its data only for that kind of medical facility.
Ram
Some Camera Views Are More Helpful Than Others
The test truck had a 12.0-inch digital instrumentation panel, a head-up display, a Ramcharger two-phone wireless charging station, and a digital rearview camera mirror. The camera-based rearview mirror is helpful when the cargo bed is full. Otherwise, I prefer using the standard view.
As part of the Trailer Tow Group option package, my Ram Rebel had Trailer Reverse Steering Control. Using a knob beneath the infotainment screen, you can direct the desired trailer direction while reversing, and the system will translate your inputs into autonomous steering that will achieve the desired result.
A reversing camera is standard and includes guidance lines while backing up. Unfortunately, the test truck did not have any optional camera views, including surround view, forward view, or anything related to trailering. I wished for them while off-roading, especially when trying to execute a three-point turn on a wide section of a narrow trail surrounded by dense, dry brush.
However, my test truck did have front and rear parking sensors, and the first time I reversed out of my driveway, the automatic rear braking system slammed the Ram to a halt for no reason. In vehicles sitting closer to the ground, I'm used to this nasty surprise while exiting my angled driveway. I did not expect this, however, from the towering Ram Rebel.
Ram
2024 Ram 1500 Safety Features Are Largely Optional
My test truck lacked other driving aids, too. Ram fitted it with every possible package except the Advanced Safety Group.
This package installs:
Pedestrian detection with automatic braking
Adaptive cruise control with stop-and-go capability
Lane-departure warning with lane-keeping assist
Surround-view camera
Semi-autonomous parking assist for parallel and perpendicular spaces
Automatic high-beam headlights
Which safety features does Ram include on every Rebel? Other than a forward-collision warning system with automatic emergency braking, not much. Considering how hard it is to see over the Rebel's bulging hood, that pedestrian-detection system should be standard equipment.
Inexplicably, Ram does not offer blind-spot monitoring with rear cross-traffic alert on the Rebel model, though you can get this tech on other versions of the truck. Instead, the Rebel features split-view side mirrors with a convex wide-angle section that I never got comfortable using.
Ram
2024 Ram 1500 Gets Five Stars for Safety Ratings
According to the National Highway Traffic Safety Administration, the 2024 Ram 1500 earns a five-star overall crash-test rating. It performs to this standard in each assessment except for front passenger protection in a frontal-impact collision and the rollover resistance measure. As of publication, the Insurance Institute for Highway Safety (IIHS) has not rated the 2024 Ram 1500.
You can check the IIHS website for updates.
Ram
Ram 1500 Rebel Is Tuned for Off-Roading
Ram equips the Rebel with a standard 3.6-liter V6 engine, making 305 horsepower, but the test truck had the optional Hemi 5.7-liter V8, producing 395 horsepower and 410 pound-feet of torque. Like the V6 engine, it employs Ram's eTorque mild-hybrid technology to conserve gas, and the Rebel V8's fuel economy rating is 18/22/19 mpg city/highway/combined. My observed fuel economy of 14.4 mpg fell far below expectations.
The Rebel is the off-road-tuned version of the Ram 1500. Compared with a Laramie model, the Rebel has standard four-wheel drive, an electronic locking rear differential, a 2.92 rear-axle ratio, 33-inch all-terrain tires, a lifted suspension adding an extra inch of ride height, performance shocks, underbody skid plates, and recovery hooks.
My test truck also had the optional four-corner air-suspension option, which lowers into Aero mode for driving on the highway and raises to provide maximum clearance when necessary. You can also use it to drop the Rebel for easier entry and exit, which I didn't.
In addition to these mechanical details, the test truck's G/T option package installed a Mopar cold-air intake system, a passive cold-end exhaust system, and Performance Pages technology. With Performance Pages, you can track performance data related to acceleration, braking, cornering, and more. Yes, that's what you need in a Ram Rebel: to know how many g's of force you generated on those 33-inch all-terrains when whipping the truck into a shopping center.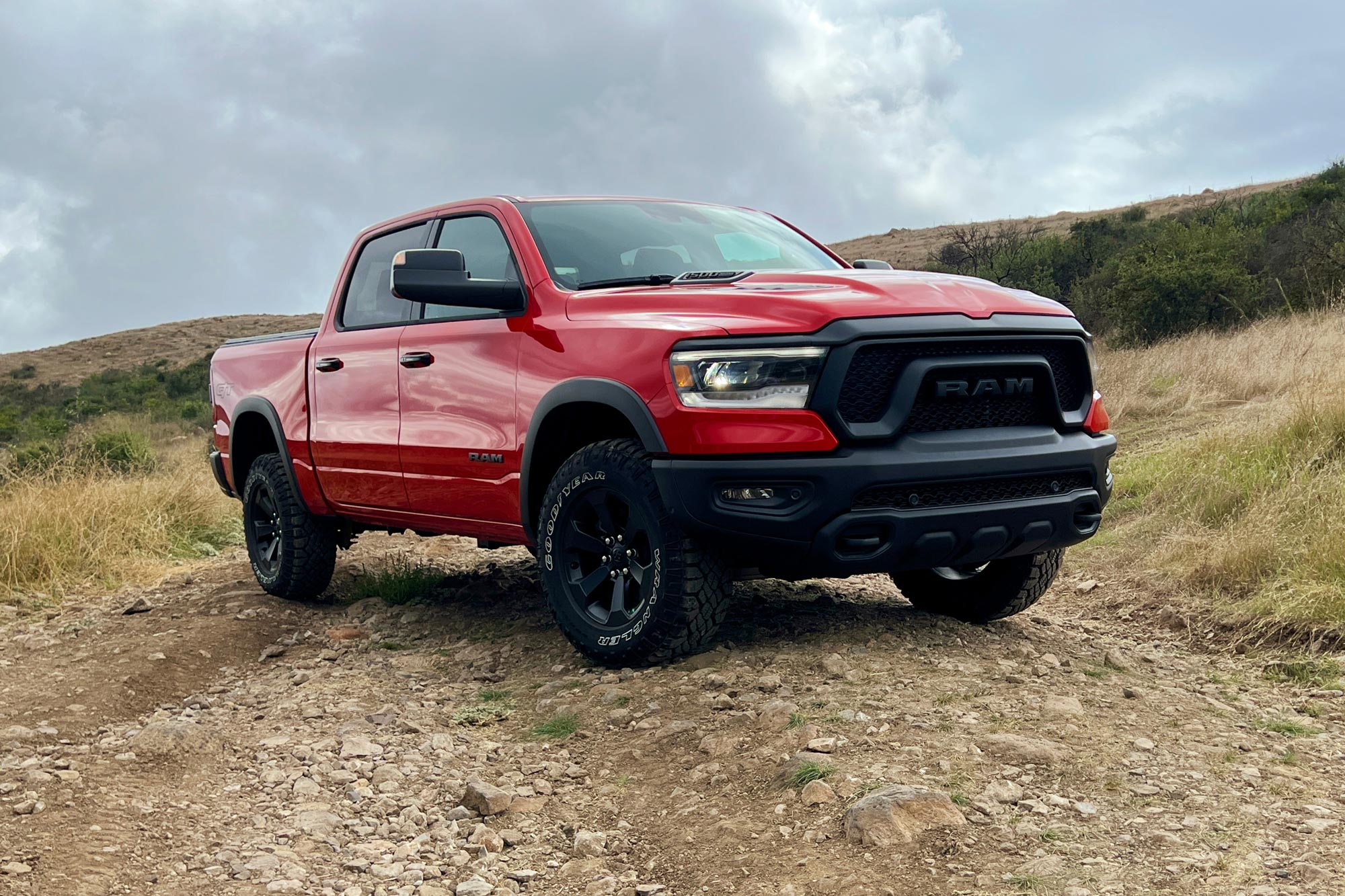 Ram
The Ram 1500 Rebel Is Surprisingly Capable All Around
The Ram Rebel handled pretty well for a full-size truck on the winding Mulholland Highway in the Santa Monica Mountains. But, it was more impressive on a rocky and rutted local trail, where only its size prevented exploration farther up the mountain, forcing a multipoint U-turn to head back the way I came. It feels unstoppable off-road but is more firm than compliant, so take it slow or you'll beat yourself up.
That firm ride is evident during the daily drive, too. Off-road versions of trucks often feel like they're gliding over the cracked, broken, and undulating pavement you encounter every day. Not the Ram Rebel. It drives more like a well-connected performance truck.
In standard specification, the Ram's coil-spring rear suspension is known for its sophisticated ride quality compared with the leaf-spring suspensions on other full-size pickups. The test truck's optional air suspension replaced the coils but not to any detriment in the ride and handling departments.
As you might expect, the Rebel's all-terrain rubber sings at speed, a background accompaniment that some people who buy trucks enjoy. Otherwise, the cab is nicely isolated from noise. Until you mash your foot down on the accelerator pedal, that is. The Ram Rebel G/T is loud. It sounds terrific, whether at idle or wide-open throttle, and it sure is menacing. And obnoxious.
One benefit of this truck's size and sound is other motorists give the Rebel a wide berth and don't mess with it. To clear the left freeway lane of squatters, simply drive a Ram Rebel with the lights on.
The detriments to daily driving this truck include waking your neighborhood when you push the engine start button, consuming fuel and draining your bank account at a horrifying rate, and praying you don't scrape the front right corner when navigating drive-thrus and parking garages. If you don't use the air suspension to kneel the truck, you'll want to get a gym membership and strengthen your core muscles just to climb aboard.
Ram
The Ram 1500 Rebel G/T Exudes Plenty of Attitude
Loud and lifted trucks such as the 2024 Ram 1500 Rebel G/T are now trendy. I get it. They exude attitude, looking buff, sounding gruff, and proving tough over the long haul. But the costs associated with owning one aren't for the faint of heart.
From the monthly payments to the fuel bills, the impressive Rebel is gifted at more than off-roading. It liberates cash from your wallet faster than a theme park vacation.
This site is for educational purposes only. The third parties listed are not affiliated with Capital One and are solely responsible for their opinions, products and services. Capital One does not provide, endorse or guarantee any third-party product, service, information or recommendation listed above. The information presented in this article is believed to be accurate at the time of publication, but is subject to change. The images shown are for illustration purposes only and may not be an exact representation of the product. The material provided on this site is not intended to provide legal, investment, or financial advice or to indicate the availability or suitability of any Capital One product or service to your unique circumstances. For specific advice about your unique circumstances, you may wish to consult a qualified professional.