2023 Lincoln Navigator Review and Test Drive
Traditional luxury meets futuristic technology.
Christian Wardlaw
QuickTakes:
When the first Lincoln Navigator bared its chrome-encrusted face in 1998, it was shockingly basic, adding little more than a prominent grille, plastic body cladding, clunky side steps, leather seats, and wood interior trim to a Ford Expedition. A quarter of a century later, the 2023 Lincoln Navigator remains based on the Expedition but is far enough removed from its mainstream sibling to justifiably command luxury-level prices.
Well into its fourth generation, the 2023 Navigator is getting a few gray hairs. The last redesign arrived in 2018, and the full-size, eight-passenger Navigator's primary rival, the Cadillac Escalade, is soon going electric. In addition, Jeep recently reintroduced the Grand Wagoneer, stoking nostalgia for one of the first luxurious SUVs sold in the United States. Other luxury SUVs have also encroached on the Navigator's turf in the past decade, including the BMW X7, Infiniti QX80, and Mercedes-Benz GLS.
Lincoln fans need not worry. While it's true that the 2023 Navigator lineup sees no significant changes, Lincoln isn't sitting idly by as other automakers electrify. The company has announced plans to launch three electric vehicles this decade while doubling down on its Quiet Flight vision of calm, soothing luxury.
Christian Wardlaw
In the meantime, the Navigator remains the same large and in-charge SUV employing the robust body-on-frame construction of a truck. It comes in standard and extended-length body styles, the latter known as the Navigator L.
In addition, Standard, Reserve, and Black Label trim levels are available, and prices range from the low $80,000s to the mid-$110,000s, including the destination charge to ship the SUV from the Louisville, Kentucky, factory that builds it to your local dealership.
For this Navigator review, I test-drove the standard-length Reserve model. It came with four-wheel drive (4WD), the Reserve I equipment group, the Monochromatic Package, and a Lincoln Play rear-seat entertainment system. However, it did not have Active Park Assist 2.0, which Lincoln deleted from the test vehicle. The additions and subtractions brought the manufacturer's suggested retail price to $104,715, including the $1,695 destination charge. Lincoln provided the vehicle for this Navigator review.
Christian Wardlaw
2023 Lincoln Navigator: The Design
I find Lincoln's design aesthetic compelling, layering art-deco detailing onto a midcentury modern canvas. At its core, the 2023 Navigator is a simple box on wheels, equipped with huge windows, an expansive panoramic glass roof, and a leather-lined cabin with rich wood trim. Atop this, Lincoln adds an intricate star-pattern grille, bold and bright wheels, spiral-design metal speaker grilles, and plenty of chrome.
Of course, you can't see most of these details on my test vehicle: a black-on-black-on-black Navigator equipped with the Monochromatic Package. While some people prefer the comparatively high-tech and futuristic look and feel of a Cadillac Escalade, I like the Navigator's glitz and glamor. It strikes me as appropriate for a large luxury vehicle.
Christian Wardlaw
Inside, the Navigator features soft-touch surfaces, premium leather, and a mix of wood, gloss black, and chrome trim. Mostly, the approach is successful, and people who love traditional knobs and buttons can appreciate the stereo and climate controls on the center console. The piano-key transmission controls may take some getting used to, though.
Like its rivals, the Navigator offers digital instrumentation and a large touchscreen infotainment system. They're not housed together under a single piece of glass, and the center infotainment display looks like a tablet computer someone glued to the otherwise minimalistic dashboard. But from a functionality standpoint, the arrangement works, and the screens offer visually appealing graphics.
Christian Wardlaw
Automatic power-deploying running boards make it simple to get into and out of the Navigator, and with the test vehicle's second-row captain's chairs, there is a wide pass-through to the third-row seat. All three rows of seats can provide comfort to taller adults, and I wouldn't balk at spending hundreds of miles sitting in the rearmost seat thanks to its high seating position, huge windows, and generous legroom and support.
My test vehicle had Lincoln's 30-way Perfect Position front seats, which exemplify the concept of "choice paralysis." These heated and ventilated thrones are comfortable once you find a combination of settings that is satisfying. I never got them dialed in exactly how I wanted, and some features, such as the individually adjustable left and right thigh bolsters, make the seats look and feel flimsy.
Christian Wardlaw
Interior storage is generous for road trips. The Navigator supplies plenty of cargo space, too. The standard-length model offers 19.3 cubic-feet behind the third-row seat, which isn't much. So, if you plan to simultaneously carry more than four or five people and plenty of luggage on a regular basis, consider the Navigator L for its 34.3 cu-ft of volume behind the third row.
Folding the third row down produces 57.5 cu-ft behind the second row (73.3 cu-ft in the Navigator L). Maximum cargo capacity measures 103.3 cu-ft (120.2 cu-ft in the Navigator L).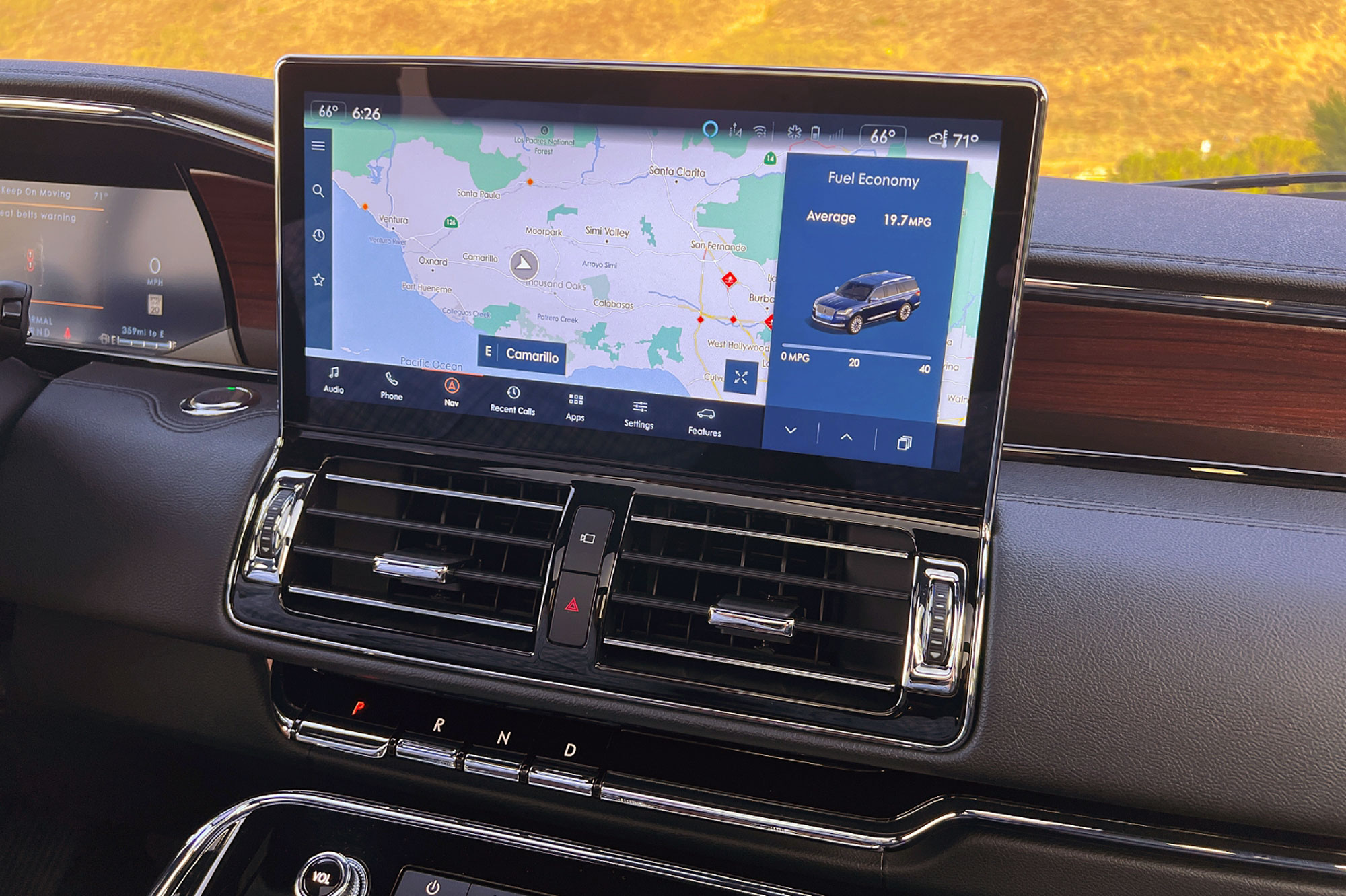 Christian Wardlaw
2023 Lincoln Navigator: The Technology
Climb aboard the Navigator, and you'll find a configurable 12.0-inch digital instrumentation display with sophisticated graphics. To the right, standing proud above the dashboard's center air vents, is a 13.2-inch Sync 4 touchscreen infotainment system. Both displays employ what Lincoln calls a Constellation theme, which features a background of twinkling stars at the top of the display and the last bit of light from a sunset at the bottom. Twilight is my favorite time of the day, so Lincoln's approach appeals to me.
Sync 4 equips the Navigator with numerous features, including wireless Apple CarPlay and Android Auto connectivity, SiriusXM 360L satellite radio, Alexa Built-in, Lincoln Connect with access to a Wi-Fi hotspot, Lincoln Streaming to access infotainment platforms, and a navigation system. Sync 4 pairs with a standard Revel 14-speaker premium sound system, but my test vehicle had the thunderous Revel Ultima 3D Audio System with 28 speakers.
Lincoln says the Navigator has enhanced voice recognition, which works well. I subjected the digital assistant to the same list of commands I use with all infotainment systems, and it responded quickly and accurately to all of them. That's a rarity.
Christian Wardlaw
In addition, the Navigator offers Lincoln Concierge services, wireless smartphone charging, and digital key technology that allows you to unlock, start, and drive the SUV using your LincolnWay smartphone app. Every Navigator includes a surround-view camera system, and a large head-up display (HUD) is available, providing quick reference to important data while driving. But the HUD mostly fades from view if you're wearing polarized sunglasses.
Lincoln equips every 2023 Navigator with Co-Pilot360 2.0, a collection of safety features that includes the driver-assistance and collision-avoidance technology you would expect to find in a modern luxury SUV. Among them, Lincoln highlights the Intersection Assist function, which tries to prevent you from making an unsafe left turn across traffic. Evasive Steering Assist is also a part of Co-Pilot360 2.0, adding stability when the driver takes sudden action to avoid a collision with an obstacle.
Christian Wardlaw
My test vehicle also had Lincoln Co-Pilot360 2.0 Drive, equipping the SUV with BlueCruise (formerly Lincoln ActiveGlide). BlueCruise is a hands-free, semiautonomous driver-assistance system that combines adaptive cruise control, lane-centering assist, and a driver monitoring system. It is available on an estimated 130,000 miles of North American highways, pre-approved by Lincoln as Hands-Free Blue Zones. Navigator buyers get a complimentary trial subscription to BlueCruise but must pay for the service after it expires.
I used the technology extensively while driving from the suburbs of Los Angeles to Santa Barbara, California, and while traveling on local freeways. Thanks to the head-up display, and the large blue steering wheel icon on the HUD and digital instrumentation panel, it's easy to know when BlueCruise is active and when it needs you to retake control.
Unfortunately, the Navigator's version of BlueCruise lacks an automatic lane-change function, so when you catch up to slower vehicles, the system disengages when you manually change lanes to pass. Otherwise, the technology works as expected, but it encounters situations requiring driver intervention often enough that it's hard to trust and probably not worth the added cost.
For example, when descending Ventura County's Conejo Grade on the northbound 101 freeway, BlueCruise struggled with the multilane traffic and curves in the freeway. Separately, when another motorist cut the Navigator off, the SUV braked sharply and began to waver in the lane, and then BlueCruise issued me an urgent message to take control of the steering. Lane shifts and construction zones also posed a challenge, and BlueCruise would not activate on one section of highway where my lane was partly concrete and partly blacktop.
In addition, it is worth noting that BlueCruise doesn't identify obstacles in the lane ahead and steer around them or accommodate lane-splitting motorcyclists approaching from behind. In those situations, the driver must take control.
Crash-test ratings for the Navigator are available but are not comprehensive. The National Highway Traffic Safety Administration gives the SUV five-star ratings for side-impact protection and a four-star rollover resistance rating, but frontal-impact scores are unavailable. The Insurance Institute for Highway Safety has not performed crash-test evaluations on the current-generation Navigator.
Christian Wardlaw
2023 Lincoln Navigator: The Drive
Every Navigator has a twin-turbocharged V6 engine making 440 horsepower and 510 pound-feet of torque. While it doesn't have the signature rumble of a V8 engine, it does offer a pleasing note and supplies effortless acceleration and towing capacity. When properly configured, a 2023 Navigator can tow up to 8,700 pounds.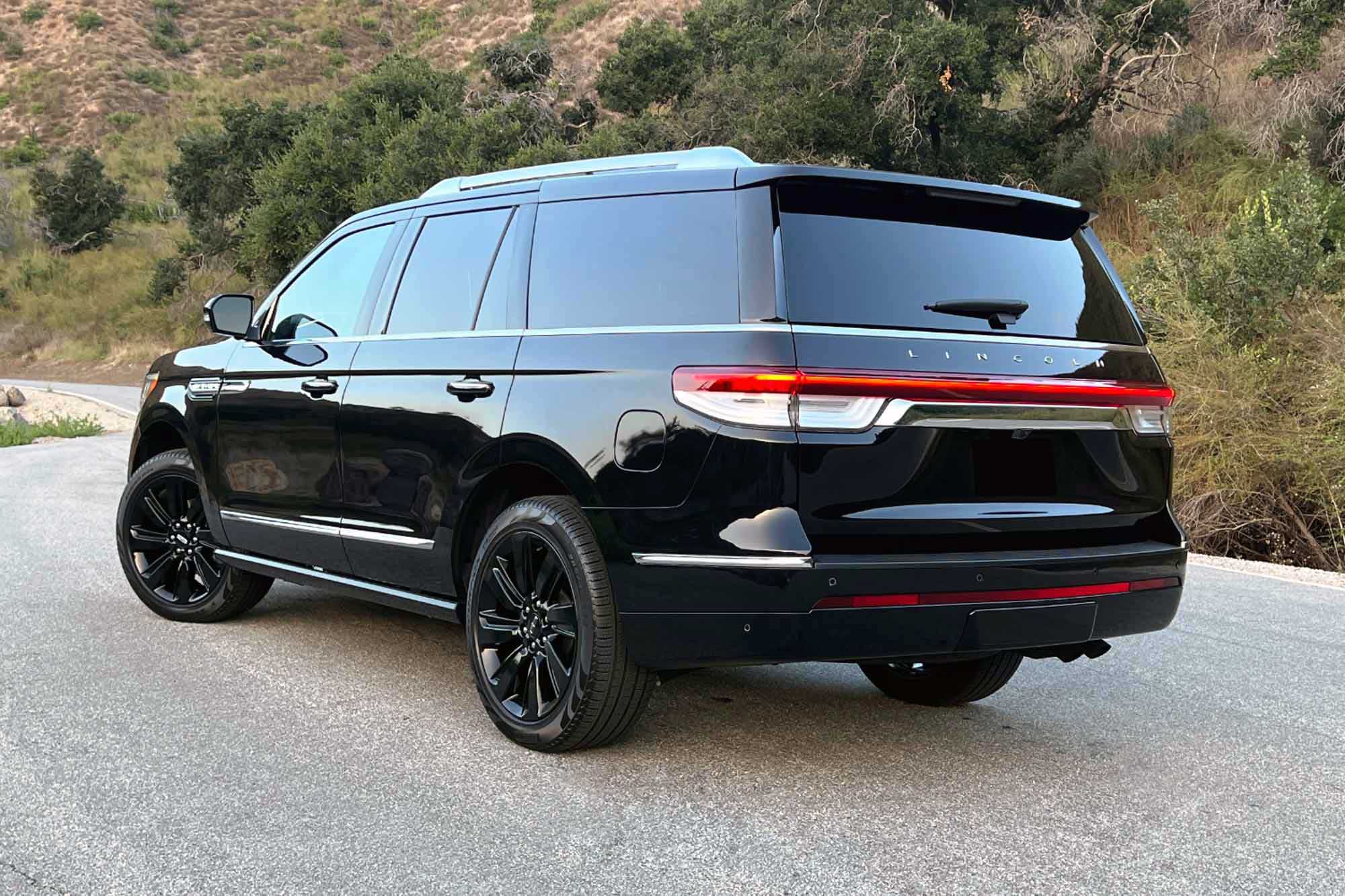 Christian Wardlaw
The engine pairs with a 10-speed automatic transmission to power the rear wheels. Four-wheel drive is available, and for the 2024 model year, Lincoln has announced that all Navigators will have 4WD as standard equipment. You're unlikely to enjoy off-roading in this SUV, but the ground clearance is generous at 9.6 inches with 4WD. Still, with Lincoln Drive Modes including Conserve, Normal, Excite, Slippery, Deep Conditions, and Slow Climb, the automaker clearly intends you to use the Navigator on paved roads, in foul weather, and for towing.
Lincoln says the Navigator has a standard adaptive suspension with a feature called Road Preview. It uses the front camera to identify upcoming bumps and prepare the suspension for impact. With the SUV in Normal mode, I drove it over speed humps at 35 mph, resulting in excessive body motion. Over sharper speed bumps at 25 mph, the suspension was more impressive, quelling harshness that might otherwise have made its way into the cabin.
Still, I wasn't impressed with my Navigator test vehicle's ride quality in Normal mode. Reserve trim includes 22-inch wheels wrapped in 285/45 tires, and while they provide impressive grip on a smooth and winding road, the heavy wheels and the short-sidewall tires do the SUV no favors in urban and suburban situations. Depending on the circumstances, the ride can be firm and jittery like a pickup truck or soft and wallowy like a 1978 Lincoln Town Car.
Christian Wardlaw
However, switching to Excite mode firmed up the suspension, helping to reduce or eliminate the excessive ride motions. I much preferred driving the Navigator in this mode. However, the Excite mode also activates the automatic 4WD setting, which can't be good for maximizing fuel economy.
As expected, the Navigator's size is a liability in some situations. For example, finding a parking space that will accommodate the SUV can take longer, especially in cities. Also, though parking sensors and cameras help, drive-thrus with narrow lanes defined by tall curbs can pose a challenge.
Weight is apparently an issue, too, because the brakes lost their ability to decisively bite while driving down a narrow, curvy mountain road from mountain peaks to the Pacific coast. Considering Lincoln makes the Navigator for carrying lots of people or cargo or towing plenty of weight, the soft pedal and longer braking distances I experienced are not ideal.
The Navigator is in its natural habitat on the open road, allowing you and up to seven passengers to travel far and wide in comfort and style. But you'll need to plan regular gas stops because I got 15.6 mpg on the evaluation loop, coming up short of the official EPA fuel-economy rating of 16/22/18 mpg city/highway/combined.
Christian Wardlaw
Is the 2023 Lincoln Navigator a Good Luxury SUV?
The fourth-generation Lincoln Navigator can accommodate up to eight people comfortably, holds plenty of cargo, tows more weight than most rivals, and offers as much technology as its competitors. In addition, through its design and packaging, the Navigator has carved out a niche within the large luxury SUV segment, one that blends popular retro style with features that can provide a sanctuary from the stress of modern life. The twin-turbo powertrain is impressive, too.
Best of all, the 2023 Lincoln Navigator is more than just a fancy Ford.
This site is for educational purposes only. The third parties listed are not affiliated with Capital One and are solely responsible for their opinions, products and services. Capital One does not provide, endorse or guarantee any third-party product, service, information or recommendation listed above. The information presented in this article is believed to be accurate at the time of publication, but is subject to change. The images shown are for illustration purposes only and may not be an exact representation of the product. The material provided on this site is not intended to provide legal, investment, or financial advice or to indicate the availability or suitability of any Capital One product or service to your unique circumstances. For specific advice about your unique circumstances, you may wish to consult a qualified professional.