Awards
Awards
We're honored to be recognized for our workplace and community involvement.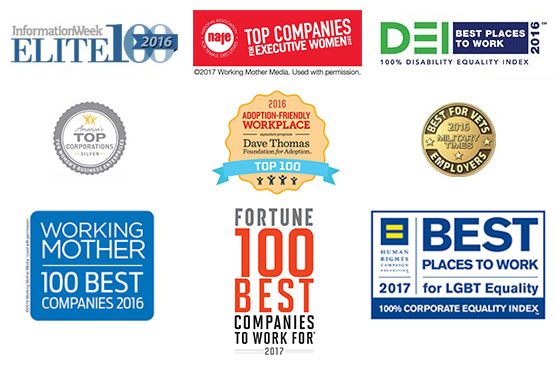 National and Leadership
Forbes "America's Best Employers"
FORTUNE 500 (#112)
FORTUNE Global 500 (#496)
FORTUNE "100 Best Companies to Work For" (#88)
FORTUNE "World's Most Admired Companies"
Environmental Protection Agency Green Power Partnership "Fortune 500 Green Power List"
Training magazine's "Top 125" (#9)
Workforce "Workforce 100" for Excellence in Human Resources (#9)
Colleen Taylor, Payments Source "Top Women in Payments"
Richard Fairbank, STEMconnector in partnership with U.S. News and World Report, the Business-Higher Education Forum and FORTUNE "100 CEO Leaders In STEM"
Rick Lyon and Ben Stacks, The Mortgage Observer "50 Most Important People in Commercial Real Estate Finance"
Product Innovation
CardHub "Best Credit Card Rewards"
InformationWeek "Elite 100" (#1) for Business Technology Innovators
MONEY "Best Bank for Multiple Regions"
MONEY "Best Business Checking"
WalletHub "Best Checking Account Transparency"
Diversity & Inclusion
American Association of People with Disabilities and the U.S. Business Leadership Network "Best Places to Work" and Top Scoring Company on Disability Equality Index
CAREERS & the disABLED Magazine "25th Annual Top 50 Employers"
Dave Thomas Foundation for Adoption "Best Adoption-Friendly Workplaces"
DiversityBusiness.com "America's Top 50 Organizations for Multicultural Business Opportunities"
Fatherly.com "50 Best Places to Work for New Dads" (#36)
Human Rights Campaign Foundation "Best Places to Work for LGBT Equality"
LATINA Style "Top 10 Employee Resource Group of the Year" for Hispanic Network
Military Times' "Best for Vets" (#10 overall and #1 in Banking/Financial Services industry)
Minority Business News USA "Most Admired Corporations for Supplier Diversity"
National Association for Female Executives "Top 40 Companies for Executive Women"
National Business Inclusion Consortium "Best of the Best: Top 30 Corporations for Inclusion"
Working Mother "100 Best Companies"
Corporate Citizenship
National Conference on Citizenship, Points of Light and Bloomberg "Civic 50" Most Community-Minded Companies in the S&P 500® 
City of Houston "Community Partner of the Year"
Dallas Business Journal "Corporate Philanthropist of the Year"
Fortune Society "Corporate Leaders for Change Award" for support of affordable housing
Junior Achievement "Gold U.S. President's Volunteer Service Award"
Richmond Metropolitan Business League "Distinguished Service Award" for community service efforts that support the small and minority business community in Central Virginia
S. Buford Scott "Leadership Award" for exemplary leadership and commitment to expanding mentoring opportunities for Virginia youth
State of Louisiana Board of Education "Distinguished Partners in Education Award"
U.S. Chamber of Commerce Foundation "Best Community Improvement Program"
Washington Business Journal "Corporate Philanthropy Award" (#1 in monetary giving; #7 in volunteer hours)
View a complete list of Capital One's awards (Download PDF Document 629 KB)

Working Mother, [Feb. 1, 2016] © [2016] Bonnier Corporation. All rights reserved.