Programs

>

Junior Achievement Finance Park
Junior Achievement Finance Park
Capital One®/Junior Achievement Finance Park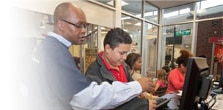 Capital One and JA Worldwide created a unique mobile program that will introduce 7th and 8th graders to money management basics through interactive learning.
In 2006, Capital One partnered with Junior Achievement Worldwide (JA) to bring financial education curriculum to students across the U.S. Together, the organizations created Capital One/Junior Achievement Finance Park – a mobile version of JA's successful financial literacy program that provides middle school students with the opportunity to study personal finance in their school classroom and apply what they've learned in a visit to a mobile classroom that contains a miniature city where they become "adults for a day." The mobile program allows Finance Park to reach thousands of students in previously underserved locations. Thousands of Capital One associates volunteer each year to work alongside Finance Park students in the mobile classroom.
"Reinforcing the Junior Achievement curriculum with a fun, hands-on learning experience is a great way to teach youth important financial literacy skills," said Richard Woods, Capital One Senior Vice President and executive sponsor of Finance Park. "The program will help us reach new communities of children, and we hope the experience will have a lasting effect for the students who participate in Finance Park."
"Students can be adults for a day," said Sean Rush, President and CEO of JA Worldwide. "The program teaches them financial literacy through invaluable experiential learning. Thanks to this incredibly generous gift from Capital One, more middle school students will have first-hand experiences that will help them in all aspects of their lives, and help prepare them for the real world."

Link to Junior Achievement
Featured Programs
MoneyWi$e Online Learning Tools
Capital One and Consumer Action have developed MoneyWi$e Online, a set of interactive web-based tools, tips, and resources for consumers.
MoneyWi$e: Financial Education Resources
Capital One and Consumer Action provide financial education resources in multiple languages for consumers. Visit www.money-wise.org to request free MoneyWi$e materials.