Programs

>

Disaster Relief
Disaster Relief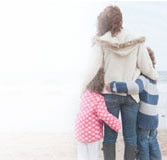 The most immediate and large–scale needs for communities often arise after natural disasters. Capital One acts on its belief that the private sector must step in and help out communities at these times.
Capital One's philanthropic disaster relief program enables us to respond to natural disasters, both in the U.S. and, where possible, abroad. When these events occur, we know that in those communities are members of our family – associates, customers, and neighbors in the communities we serve – many of whom may have been impacted. And, we want to help. Through our disaster relief efforts, Capital One provides corporate grants to local nonprofit organizations to provide immediate aid where needed, our associates hold clothing and food drives, and our Community Affairs team coordinates local volunteerism activities.
In 2008, Capital One responded to the following natural disasters:
Hurricanes Gustav and Ike
Provided funds in immediate relief to United Way of Greater New Orleans (Hurricane Gustav)
Provided 25 grants to community based organizations across Texas for immediate relief services (Hurricane Ike)
China Earthquake and Myanmar Cyclone
Provided a corporate grant to GlobalGiving, a U.S.-based nonprofit organization with direct ties to several nonprofit service providers in China
Provided a 1:1 financial match to our associates' who contributed personal funds to further assist nonprofit relief services in China and Myanmar.
Our Asian Associate Network conducted an associate fundraising drive and more than $30,000 in associate donations in just over one month.  Capital One sent the funds to GlobalGiving for their continued relief services in these regions.
Capital One and our Asian Associate Network directed an additional grant in support of the long-term reconstruction needs in these countries.
Hurricane Katrina Relief Efforts
"It has been an incredibly difficult time for the people of New Orleans and other communities throughout Louisiana and the Gulf Coast. We know that many have suffered personal losses and that this is a time for healing and rebuilding."
—Richard Fairbank, CEO & Chairman, Capital One Financial Corporation.
"The devastation and need in the region are tremendous," said Marty Evans, President and CEO of the American Red Cross. "Support we receive from businesses like Capital One and individual contributions are critical to our efforts."
Most recently Capital One® has been engaged in the rebuilding efforts following Hurricane Katrina by participating in several fundraising efforts. We've been able to make use of our technology and unique skills to help ensure that the relief efforts are successful.
Telethon Support
Taking more than 24,000 calls, our associates collected nearly $2 million in donations for the American Red Cross and the Salvation Army Hurricane Relief efforts.
More than 1,500 associate volunteers from across the country took approximately 25 percent of the pledge calls through its phone system, raising $4.24 million.
Telethon Stats
2,800 volunteers in Richmond
600 volunteers in Tampa, Florida; Plano, Texas and Boise, Idaho
8,800 volunteers hours
71,000 calls taken by Capital One
$6.15 million dollars collected by Capital One associates
Financial Support
Capital One donated $1.5 million to the American Red Cross through the Associate Donation and Company Match programs including:
Capital One matches two-for-one all U.S. and Canadian associate contributions made to the American Red Cross Hurricane Relief effort, up to a combined total of $500,000.
Capital One donated $1 million to the Red Cross to use for the immediate support of the hurricane victims.
Associate Involvement
Associates in Richmond donated approximately 10,000 pounds of nonperishable food items to the Central VA Food Bank.
One team of associates raised $12,720 for the Red Cross relief efforts within 4 days.
Another team collected over 125 boxes of clothing, shoes, books, and toys totaling over of 1,200 pounds for shipment to a shelter in New Orleans supporting more than 2,500 hurricane victims.
Capital One is also providing local support for Hurricane Katrina disaster relief as follows:
$25,000 to Red Cross of the Greater DC Region
$25,000 to the Red Cross of Richmond, VA
$50,000 to the National Red Cross
$130,000 to 35 Louisiana schools for equipment, books and curriculum-based supplies
$20,000 to our community partners in Dallas to help with the cost of finding transitional housing, transportation and child care.
$1.5 million for in-kind donations related to telethon assistance.
$250,000 Donation to Communities in Schools (CIS)
Capital One has also pledged $250,000 in support of the CIS network to provide immediate and long-term assistance to young people and families affected by Katrina.
$150,000 to "ReJazz New Orleans"
 Capital One pledged $150,000 to "ReJazz New Orleans," a charitable campaign to rebuild New Orleans and its infrastructure, including schools and neighborhoods across the city. ReJazz New Orleans, created by Hibernia Bank, will be the repository for the nationwide campaign to generate support for this monumental rebuilding effort. Brightly colored beads, typically worn during Mardi Gras and a symbol of the true spirit of New Orleans, are the tangible sign of support for donations made to ReJazz New Orleans.
Back to Featured Programs
Featured Programs
Make a Difference Day
Every day, we strive to make a difference in our communities. On one special day each year, Capital One joins with millions across the country to contribute to a national day of service. Learn More 
Enterprise Community Partners
Through our partnership with Enterprise Community Partners, we are committed to making quality affordable housing available in our communities. Learn More