Financial Education
Financial Education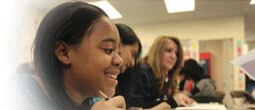 We've developed a financial education program to empower our consumers, our communities, youth, and our associates with the tools and resources to make smart financial decisions.
At Capital One, we understand the importance of economic security to families in our communities, and we believe financial literacy and money management skills are crucial building blocks for success. Since our company's founding, we've been investing in programs that prepare children for successful futures and teens and adults for economic self-reliance. We approach financial education in a variety of different ways, and design our programs to reach audiences of all ages.
A thorough understanding of financial matters and the credit system helps consumers make better decisions about their personal finances. Accordingly, we've actively sought—and developed—innovative ways to teach the basics of money management to students and families.
MoneyWi$e: A Consumer Action and Capital One Partnership
In 2001, Capital One and Consumer Action, a consumer education and advocacy group, partnered to create MoneyWi$e – a national personal financial education program offering free, multilingual materials and community-based training opportunities to provide families in low-to-moderate income communities with tools to achieve financial security. The program fused Capital One and Consumer Action's joint strengths in finance and financial education to create educational content and training programs for consumers. To date, 12 modules have been produced on topics such as banking, money management, credit, saving, identity theft, elder fraud, micro-business, and homeownership.
The main objective of the MoneyWi$e program is to create and deliver content where it is needed and to ensure that people use it effectively. To accomplish this objective, Consumer Action uses its national network of more than 10,000 community-based organizations (CBOs); Capital One brings associate volunteers and a robust communications infrastructure. The combination makes for a powerful outreach engine that has, to date, reached more than 3 million consumers. To request free MoneyWi$e materials visit www.money-wise.org.
In 2008, Capital One and Consumer Action partnered to develop MoneyWi$e Online, a set of interactive web-based tools, tips, and resources for consumers.
"Capital One's approach to working with the community—based on an understanding of the great value they can offer by leveraging the same capabilities that have made them a successful business—is unique among corporations," said Ken McEldowney, Executive Director of Consumer Action. "By bringing to bear not only their financial resources, but their talented people and business expertise, Capital One has generated profound, positive outcomes for Consumer Action, our community partners, and their clients."
Capital One/Junior Achievement Finance Park
In 2006, Capital One partnered with Junior Achievement Worldwide (JA) to bring financial education curriculum to students across the U.S. Together, the organizations created Capital One/Junior Achievement Finance Park – a mobile version of JA's successful financial literacy program that provides middle school students with the opportunity to study personal finance in their school classroom and apply what they've learned as they visit a mobile classroom that contains a miniature city where they become "adults for a day." The mobile program allows Finance Park to reach thousands of students in previously underserved locations. Thousands of Capital One associates volunteer each year to work alongside Finance Park students in the mobile classroom.
"Reinforcing the Junior Achievement curriculum with a fun, hands-on learning experience is a great way to teach youth important financial literacy skills", said Richard Woods, Capital One Senior Vice President and executive sponsor of Finance Park. "The program will help us reach new communities of children, and we hope the experience will have a lasting effect for the students who participate in Finance Park".
"Students can be adults for a day," said Sean Rush, President and CEO of JA Worldwide. "The program teaches them financial literacy through invaluable experiential learning. Thanks to this incredibly generous gift from Capital One, more middle school students will have first-hand experiences that will help them in all aspects of their lives, and help prepare them for the real world."
The Jump$tart Coalition
Capital One is a proud supporter of The Jump$tart Coalition® for Personal Financial Literacy. The Coalition consists of 180 organizations and 47 affiliated state coalitions dedicated to improving the financial literacy of youth from kindergarten through college age by providing advocacy, research, standards, and educational resources.
Through our partnership, Jump$tart and Capital One work together as part of "Jump$tart Day on the Hill" to raise awareness among legislators of the types of financial education materials and programs we have available to compliment their efforts to promote increased financial literacy among their constituents.