Volunteerism
Environmental Sustainability — Volunteerism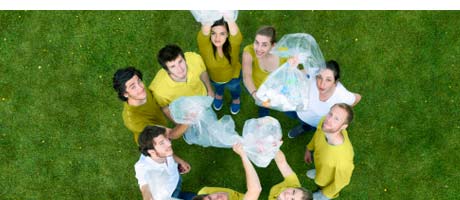 Making choices that count at home, work, and in our communities
Bringing attention to the significance of environmental sustainability is an important way Capital One demonstrates our environmental commitment to the community. Through various programs, we help associates understand what they can do to reduce their environmental impacts at work, and at home.
Associates have formed local Green Teams at workplaces across the company to promote sustainability best practices and environmental volunteerism. Green Solutions also manages a community on the company's internal website where associates can share green resources, ask questions, and discuss sustainability trends and best practices.
Our associates engage in green activities at home, work, and in the community through events that impact them locally and globally. These events include:
Earth Day celebrations: Annual company-wide Earth Day events that include education sessions, recycling drives and green volunteering.
Environmental Speaker Series: Educational events covering a variety of sustainability topics, available via webinar to all associates.
Earth Hour: Associates pledge to turn off their lights for an hour as part of the World Wildlife Fund's Earth Hour campaign each March.
Recycling Month: Each November, Green Teams across the company coordinate collection drives for items including electronics, personal documents, gently used clothing and household goods.
Green volunteerism: Associates dedicate their time and talents to participate in volunteer projects including park beautification, tree plantings, waterway and highway cleanups.
Revitalization projects: Work sites across the company partner with local non-profits like Habitat for Humanity, Better Housing Coalition, Virginia Supportive Housing, Heart of America, Rebuilding Together, and more.
Highlights
Each month, our West Creek campus in Richmond, Virginia, donates an average of 5 tons of unserved food from our cafes to FeedMore, a local hunger-relief organization. Associates work with our food service partners to portion and package the food for distribution to those in need.